Only two days after the worst kind of evil visited the normally tranquil country of New Zealand, its prime minister, Jacinda Ardern, proclaimed that new gun laws would be enacted.
The call to prayer, recited before a crowd of mostly non-Muslim New Zealanders, was broadcast live on national radio and television.
New Zealand Prime Minister Jacinda Ardern led gun reform that resulted in a ban on assault rifles.
He was killed last Friday while he prayed with his family and friends, one of 50 people shot dead at two mosques that day.
The campaign has received support from the Islamic Women's Council of New Zealand and the New Zealand Muslim Association.
Her messages full of conscious and conscience embraced the Muslim communities of New Zealand and assured them that they are first-class citizens of their country while strongly condemning the massacre. She said - I'm alive; I'm alive.
Following the attacks, Ms Ardern announced that there would be a ban on all types of semi-automatic weapons, adding that the new legislation would be in place by 11 April.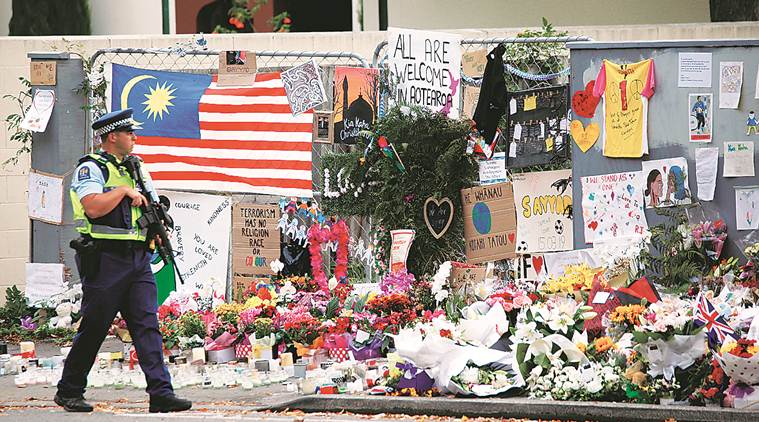 A makeshift memorial outside the Al Noor Mosque in Christchurch New Zealand
Others directly vented their anger at the new rules right in the comment sections below the submission form, by saying that the New Zealand government seeks to "steal people's property". "I will keep watch while you pray", she said.
Burj Kahlifa, the world's tallest building, on Friday lit up with New Zealand Prime Minister Jacinda Ardern's picture to pay tribute to the victims of Christchurch mosque attack.
"We are wearing headscarves showing our support, love and solidarity, and hope that by everybody doing this it will demonstrate to Muslim women. that they are one with us", she said.
Worshipers were gunned down inside the Al Noor mosque in Christchurch and then at a nearby mosque in the suburb of Linwood on March 15. New Zealand, which already has prosecuted two people for distributing the gruesome livestream video of the attack, has now also made it a crime to share the alleged killer's "manifesto", NZ media reported.
Relatives and other mourners thronged into a Christchurch cemetery where 26 victims of the attack, and one person who died in a vehicle crash that was unrelated to the mosque shooting, were laid to rest in a mass burial. "After we finished there was a lot of emotion, people were crying and hugging", said a body washer in Christchurch who gave his name as Mo.
Australia's Brenton Tarrant, a suspected white supremacist, has been charged in the murders.
More news: Apple's AirPower Charging Mat Expected to Release Soon