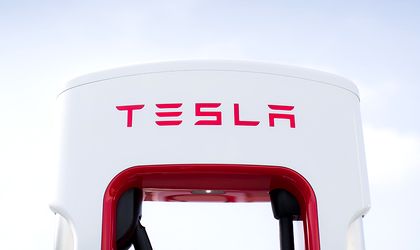 According to a blog post, the Supercharger V3 can juice up a Tesla Model 3 Long Range with enough power to travel 75 miles in just five minutes at peak efficiency.
Tesla has just unveiled their new V3 Superchargers tonight, which offer faster charging for owners, capable of rates of up to 1,600 km per hour (1000 miles/hour) at their peak. The new chargers will initially roll out for the Model 3, with the capability being provided for the Model S and X via over-the-air software updates over the course of the next few months.
Tesla says the V3 stations will give full charging power to any owner, without splitting power with the next vehicle also at the station at the same time - and as a result, a typical charge time can drop to around 15 minutes. A new 1MW power cabinet with a similar design to our utility-scale products supports peak rates of up to 250kW per vehicle. Tesla says that preconditioning the battery on the way to the Supercharging station will reduce the average charge time by 25%.
More news: Apple quietly began repairing iPhones with third-party batteries
In the coming weeks, over 12,000 existing V2 Superchargers will get 145kW charge rates, up from 120kW. At launch, only Model 3 owners will be able to use V3 Supercharging.
For now, Tesla has only installed its preview Supercharger V3s in Fremont, California and will only make them available to members of its early access program. After rolling out in North America, the technology will reach Europe and the Asia-Pacific region in the fourth quarter, the company said. The company says that thousands of new Superchargers will come online in 2019; it doesn't stipulate that all of these will be V3 Superchargers, but it would be unlike Tesla not to deliver its most advanced version.
However, since Tesla's Fremont, CA Supercharger is the only so-equipped charging station in the United States so far, chances are those batteries will already be rolling at pretty moderate temps.