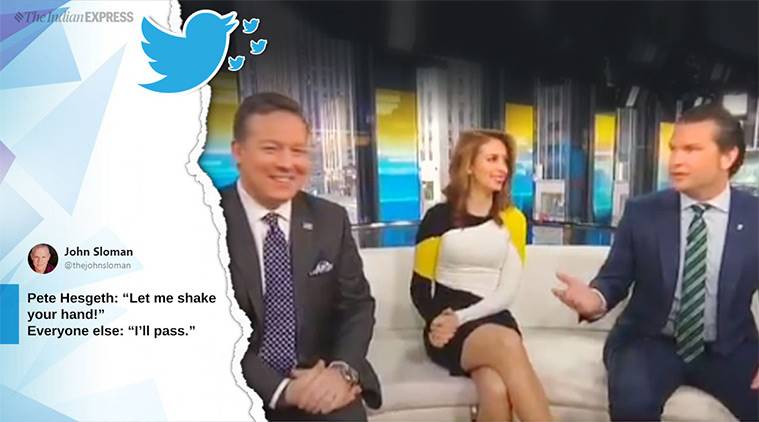 Fox News host Pete Hegseth made a quip about never washing his hands Monday that was so widely covered that it has made worldwide headlines.
"We're on a show, and we have fun, and we banter, and I'm like, eh, you know, maybe I haven't washed my hands for 10 years", he told USA Today.
The revelation came after co-hosts Ed Henry and Jedediah Bila questioned Hegseth's off-camera consumption of pizza left out afterNational Pizza Day, onSaturday - Newsweek reports. Really, I don't really wash my hands ever'.
"The next thing that will happen they are going to be calling my biology professor at Princeton (and ask) 'When Pete was a student in your class, did he believe germs were real?' So dumb". "I can't see them, so, therefore, they are not a real thing".
Mr Hegseth said: "My 2019 resolution is to say things on air that I say off air".
One co-host, smiling, exclaimed, "Someone help me", nearly as though she was providing an adequate button on which to end this conversation.
Bila added that Hegseth was developing an immunity to bacteria, rolling her eyes as he remarked, "Exactly!"
More news: Beto O'Rourke to join march against wall countering President Trump visit
The declaration didn't go over well with folks who commented on Hegseth's Twitter timeline, some with this hashtag: #WashYourHands.
The US-based Centers for Disease Control and Prevention says regular hand washing "is one of the best ways to remove germs, avoid getting sick, and prevent the spread of germs to others".
"Ewwww Pete Hegseth, stay the hell away from me", one social media user tweeted.
The Hegster put his fist in it on Sunday when he professed live on "Fox & Friends" he hadn't washed his hands in 10 years.
A Fox News spokeswoman told The Washington Post Hegseth was joking, of course, which he later said was "obvious".
Germs and microbes have been observed in pretty much every environment on Earth, from our food, to the soil in which it grows, and the hands of the humans that produce and prepare it.