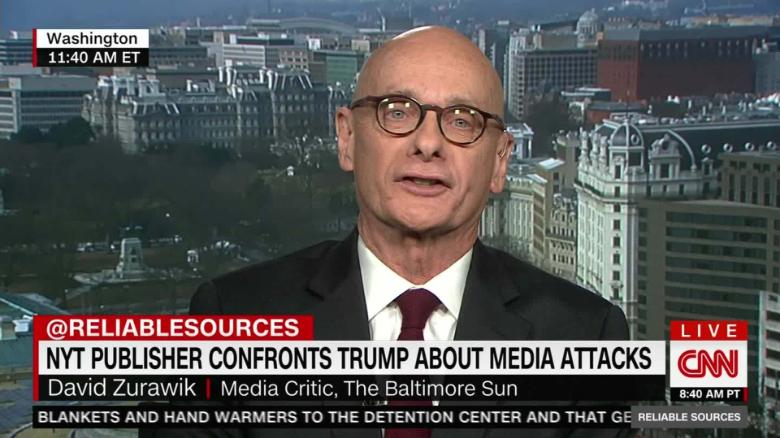 If you follow anyone who's active on "media Twitter", you've no doubt seen the news that former New York Times executive editor Jill Abramson-the first woman to hold that vaunted position-has been accused of multiple incidents of plagiarism in her new book, the now-ironically-titled Merchants of Truth: The Business of News and the Fight for Facts. Abramson's outsized role in journalism is also the reason why her work is receiving so much scrutiny.
Abramson, 64, who served for nearly three years as the paper's first female editor until being fired in 2014, was regarded by many as one of America's leading journalists and her book was billed as a "definitive report on the disruption of the news media over the last decade".
The plagiarism allegations were leveled on Twitter Wednesday by Vice News's Michael Moynihan, who compared sections from Abramson's book with passages from other publications, including Ryerson Review of Journalism, The New Yorker, Time Out, and Columbia Journalism Review.
Perhaps realizing that her deflections weren't working, Abramson promised that she "takes seriously the issues raised and will review the passages in question". Minutes later, she claimed that she "endeavored to accurately and properly give attribution to the hundreds of sources that were part of my research".
The author's recently released literary offering, 'Merchants of Truth, ' has been billed as "the definitive in-the-room account of the revolution that has swept the news industry".
Abramson has previously been criticized for alleged factual errors, with reporters at Vice and PBS among those faulting her.
Taking to Twitter on Wednesday evening, Abramson then fired off a series of poorly received tweets in her defense.
More news: Ariana Grande: Grammys producer is 'lying about me'
Simon & Schuster, which published the book, also issued a statement, calling the book "an important, exhaustively researched and meticulously sourced book".
"If upon further examination changes or attributions are deemed necessary we stand ready to work with the author in making those revisions", the statement said.
"All I can tell you is I certainly didn't plagiarize in my book", Abramson said, adding that she had not yet read Moynihan's allegations about the three chapters she wrote about Vice.
But Thursday, in an interview with NPR, she admitted she "fell short".
"The language is too close in some cases and should have been cited as quotations in the text", she added. "Or put in quotations in the book". And I'm going to fix those pronto. She now teaches creative writing at Harvard University. Stillman, a freelance journalist who has written for Gothamist and The Awl among others, declined comment when reached by telephone Wednesday night.
The Vice correspondent wasn't the only one to notice something fishy about Abramson's authoritative prose: journalist Ian Frisch noted that the former New York Times bigwig had taken a few liberties with his own reporting.