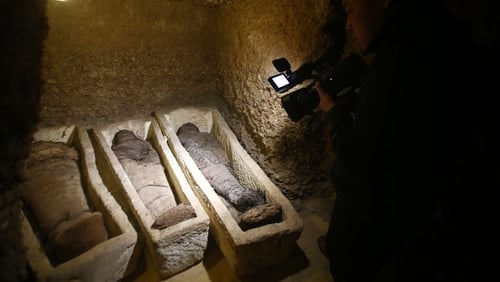 Egyptian archaeologists uncovered a tomb containing 40 mummies dating back to the Ptolemaic era from 323 BC to 30 BC, the Ministry of Antiquities said on Saturday.
Over 40 mummies were unveiled in a burial site in Egypt.
Many ancient Egyptian discoveries are made by both Americans and Egyptians, he added.
Prior to this, in 2017, archaeologists at Cairo University unearthed another tomb in Tuna el-Gebel that contained at least 17 mummies, Egypt Today reported.
Egypt's Minister of Antiquities Dr. Khaled El-Enany said that the newly-discovered tombs likely belonged to a middle-class family.
The mummies have been dated to the Ptolemaic, early Roman or Byzantine periods.
Mostafa Waziri, secretary-general of the Supreme Council of Antiquities, said that the identities of the mummies were still unknown but the graves, discovered during an excavation in February previous year, are believed to belong to "a petty bourgeois family". Colorful mummy cases were also unearthed.
More news: LeBron James Nearly Records Triple-Double In Return, Lakers Beat Clippers
Some were wrapped in linen, others were in stone coffins or wooden sarcophagi.
Anany added that new archaeological discoveries will soon be announced in some areas of Egypt.
The entrance to the tomb had first been found in February previous year, when archaeologists found a corridor leading to sloping stairs that opened to a rectangular chamber 9 meters (30 feet) deep. At the northern side, there is a third chamber with a collection of stone sarcophagi inside niches.
They were in four 10m-deep burial chambers, wrapped in linen.
The mission started its work in Tuna El-Gebel in February 2018.
Although the village is small and has around 20,000 residents, its archeological identity has contributed to bringing foreign tourists to the region, namely to visit the 28th dynasty high priest of the god Thoth at Hermopolis.