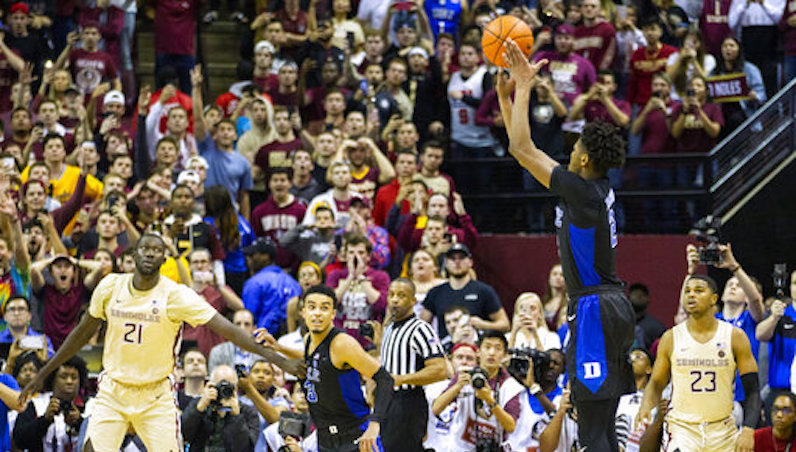 After starting a program best 17-0, MI remains entrenched at No. 2 in the latest Associated Press Top 25 poll.
On Tuesday night, Duke went to Wake Forest and took care of business, 87-65, and then hit the road again down to Tallahassee to face the then No. 13 Florida State Seminoles and won on a last second shot by Cam Reddish, 80-78.
A few of the top teams had some scares in Week 10, such as the Duke Blue Devils.
Michigan State, Kansas, Texas Tech, Virginia Tech and Nevada rounded out the rest of the top 10 for a second straight week. Duke received six first-place votes and Tennessee received seven. Virginia holds the top spot followed by Duke, Tennessee, Michigan and Gonzaga.
No. 12 Kentucky and No. 15 Marquette made the biggest jumps by climbing six spots, while No. 24 Mississippi State fell 10 spots for the biggest slide.
More news: Manchester United Ready To Offload One of Jose Mourinho's Favourites For £15million
Seven teams previously ahead of United Kingdom in the rankings lost last week, including Auburn, who fell three spots after an 82-67 defeat at MS on Wednesday. The latter extended the Ole Miss win streak to 10 games, giving the Rebels their longest win streak since 2007-08, and it meant a massive boost in the poll, from unranked to No. 18 in the country.
Three teams - No. 19 Maryland, No. 22 Villanova and No. 23 Iowa - returned to the poll after appearances earlier this season. Teams like Ohio State, Houston, Iowa State, NC State, Auburn, North Carolina, Indiana, Oklahoma, St. John's and TCU all dropped, meaning that there will be some new blood in the Week 11 rankings.
Louisville, which got a huge double-digit upset at North Carolina on Saturday, was the first team outside the top 25 in the "others receiving votes" listing.
Six ACC teams have earned a spot in the Top 25, the highest tally from any conference.