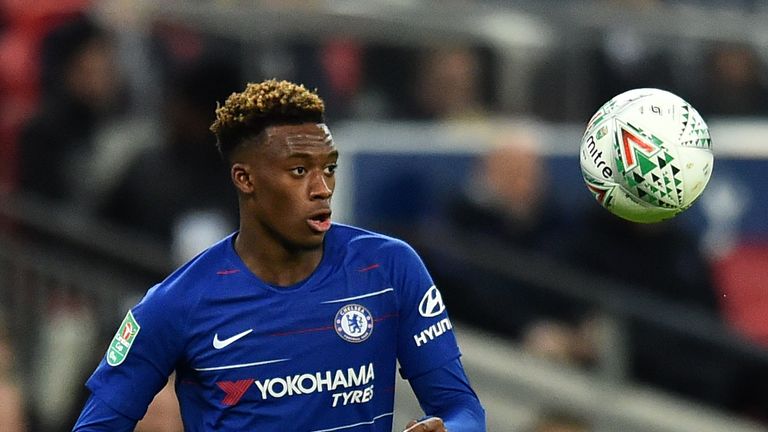 Chelsea are trying to negotiate a buy-back clause in the potential potential sale of Callum Hudson-Odoi to Bayern Munich, according to The Times.
Youngster Hudson-Odoi, who is heavily linked with a £45m switch to Bayern Munich, could maintain his place as Sarri is doing everything possible to ensure the England global stays at Stamford Bridge beyond this season.
"Then I don't know what to say, I don't know the situation".
Chelsea have reportedly turned down a £35m bid from Bayern for the 18-year-old, who has less than 18 months to run on his current contract and has so far refused to sign a new five-year deal, and Sarri is unhappy with Bayern's public approach.
It's hard to tell whether Hudson-Odoi simply wanted to avoid the cameras being on him or was in general disagreement with the chants asking him to stay.
Sancho has set an example to other young English players who might be struggling for game time in the Premier League by moving to the Bundesliga, where he has proven himself and earned a place in the national team squad. "I think that he is able to do it".
"I am happy with the player because is improving, improving a lot in the defensive phase". I think it is a great opportunity for him to do that'.
More news: Soccer legend Phil 'Chippa' Masinga dies
"He's the next one [breakout star] I would say", Sancho told the Daily Mail.
Sarri, though, has digged his heels in over Hudson-Odoi, and he is not impressed with Bayern Munich's continued pursuit of him.
"In my opinion, he's a player who would fit in well at our club".
"Then it depends on the club decision".
The England Under-19 global has played eight times for Chelsea's first team this season, but has featured in just 42 minutes of the club's 2018-19 Premier League campaign, which has led to frustration on his part. So I think that he was in trouble, maybe he was exhausted, I don't know. "It's normal", Sarri said.
"In the last six matches, we conceded only three goals and one was from a penalty". So it is better now, we need to improve in attacking the box, when the ball is out of the box. We need to improve in attacking the spaces.