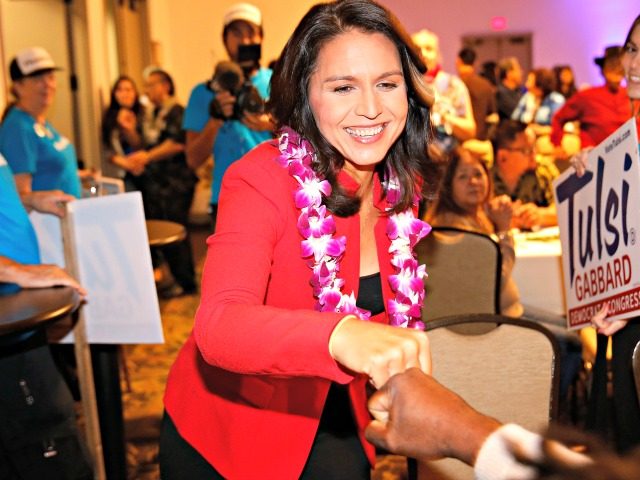 Rep. Tulsi Gabbard, a Democrat from Hawaii, announced on a CNN show set to air Saturday that she will seek the 2020 Democratic nomination for president.
Tulsi Gabbard says she has chose to run for president and will hold a formal announcement within the next week.
"I have made a decision to run and will be making a formal announcement within the next week", the Iraq war veteran said in an interview with CNN that is scheduled to air on Saturday.
Tulsi, who serves on the House Foreign Affairs Committee, said her campaign platform will address health care, climate change, and criminal justice reform. In 2004, she volunteered for a 12-month tour of duty in Iraq while serving in the Hawaii Army National Guard, leaving her seat as a state legislator to do so.
She has also courted controversy by picking a fight with Hawaii Sen.
In recent weeks, Massachusetts Sen.
More news: First Snow Of 2019 Coming This Weekend
Gabbard, 37, is the second woman after Senator Elizabeth Warren to enter the presidential race from the Democratic party.
Gabbard was one of the most prominent lawmakers to back Sanders over Hillary Clinton in the 2016 Democratic presidential primary. Gabbard didn't use any names, but the description applied to questions asked by Senators Hirono and Harris.
Gabbard's announcement comes after the progressive congresswoman was the headline speaker at a December meet-and-greet with Democrat activists in Exeter, New Hampshire, where she told local reporters that a White House bid was on the table.
Gabbard positioned herself as one of President Barack Obama's fiercest critics over his handling of the so-called Islamic State. She says she no longer holds those views on the issue.
An article in The Intercept last week led to a debate after it described Gabbard as "a polarising figure" whose "progressive domestic politics are at odds with her support for authoritarians overseas, including [Prime Minister Narendra] Modi, [Egyptian President Abdel Fattah] Sisi, and Syria's Bashar al-Assad".
Gabbard also met with Donald Trump after the election in November 2016 to discuss Syria and terrorism policy. She has also proposed a bill to outlaw U.S. weapons sales to terrorists. More recently she blasted President Trump for being "Saudi Arabia's bitch". She is the first American Samoan and the first Hindu member of Congress. "Liberals think she's too conservative, conservatives think she's too liberal, and just about everyone thinks her coziness with Bashar al-Assad is disturbing", said Ahrens.