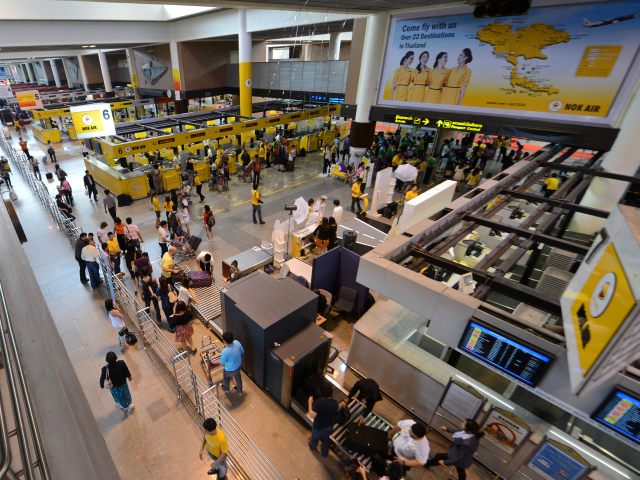 Thai authorities says a young Saudi woman who was stopped in Thailand as she tried to flee to Australia to seek asylum has left the Bangkok airport and is under the care of the United Nations refugee agency.
Rahaf Mohammed al-Qunun has been at Bangkok airport since Saturday when she was denied entry by Thai immigration officials, who deny her accusations that she was detained at the request of Saudi Arabia.
Under male guardianship laws, women must have the consent of a male relative - usually a father or husband - to travel, obtain a passport or marry.
An 18-year-old Saudi woman who was stopped in Bangkok as she was trying to travel to Australia for asylum to escape alleged abuse by her family has left her airport hotel room for temporary admission into Thailand.
New York-based Human Rights Watch said Thailand should not send Ms Qunun back to her family because she says she faces danger.
Surachate had told reporters earlier Monday Alqunun was stopped by immigration because Saudi officials had contacted them to say she had fled her family.
Thailand's immigration chief Surachate Hakparn told AFP: "Rahaf Mohammed M Alqunun ran away from her family to avoid marriage and she is concerned she may be in trouble returning to Saudi Arabia".
Thai immigration police chief Surachate Hakparn said he had been tipped off about Alqunun by Saudi officials who said she was a runaway, reported BBC.
She says she has an Australian visa but her passport was seized by a Saudi diplomat when he met her coming off the flight at Suvarnabhumi airport.
Immigration head Surachate said Qunun would be sent back to Saudi Arabia by Monday morning.
The Saudi embassy in Bangkok said Qunun was being held for not having a return ticket, and that she still had her passport, a claim denied by Qunun.
Representatives from the UNHCR would be able to talk to her at 5pm, he announced.
He was quoted in Saudi press saying that Alqunun was stopped by Thai authorities because she did not appear to have a return ticket, a hotel reservation or itinerary to show she was a tourist. He added officials will take into account whether or not Qunun will want to go back with her father once he arrives.
More news: China says detained Canadians 'without a doubt' violated the law
If sent back, Qunun told AFP she would likely be imprisoned, and was "sure 100 percent" her family would kill her, she told AFP.
Thai officials said it will be the teenager's decision on whether to see her father or not.
Her relatives have not commented on her claims. After one hour he came with five or four persons and told me my family wants me.
Rahaf said she had been suffering beatings and emotional abuse from her family members according to media reports.
Angkhana Neelapaijit, a National Human Rights Commissioner, said al-Qunun must be allowed to meet with UNHCR officials to determine if she warrants asylum status.
Ms Mohammed al-Qunun drew attention to her plight through social media posts over the weekend.
"I'm afraid, my family WILL kill me", she said on Twitter, where she shared her photograph, passport details and name, saying she had "nothing to lose".
Thai authorities have confirmed the 18-year-old was denied entry into the country on Sunday.
"Her passport was not impounded by the Saudi Embassy".
Phil Robertson, deputy Asia director for Human Rights Watch, said: "Given Saudi Arabia's long track record of looking the other way in so-called honour violence incidents, her worry that she could be killed if returned cannot be ignored".
Alqunun was expected to be on a Kuwait Airways flight at 11:15 a.m. local time Monday, but she has barricaded herself in her hotel room, and in a brief video message demanded to speak with the United Nations refugee agency. If I go back to Saudi Arabia, I will be dead.
The agency maintains that refugees and asylum seekers - whether confirmed to be in need of its protection or claiming to need it - can not legally be returned to their countries of origin, the UNHRC said in a statement, citing the principle of "non-refoulement".
"Apparently, Saudi authorities not only want to perpetuate systematic discrimination of women at home and prevent Saudi women from freely travelling overseas, but also ensure that those who manage to escape are forced back to a life of abuse".