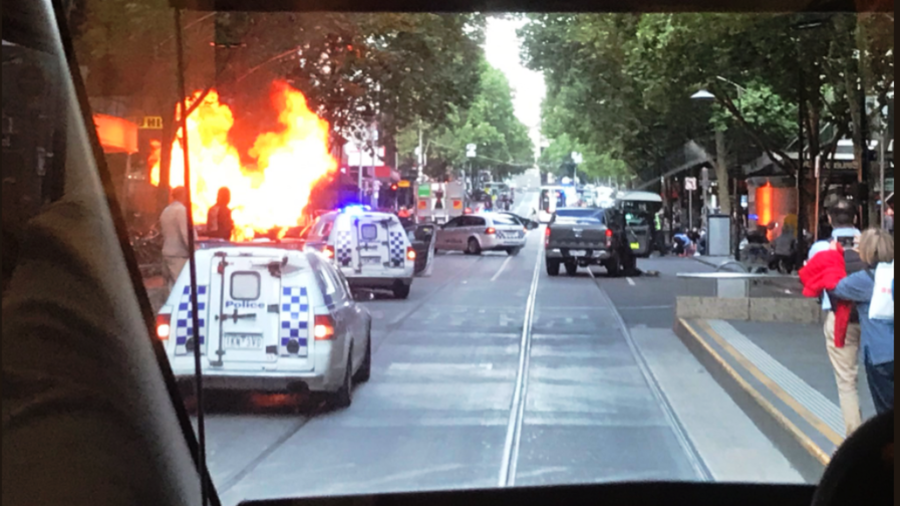 Victoria Police on Friday confirmed they were treating the attack which occurred just before 4:30pm in Melbourne's busy Bourke Street as a terror-related incident.
"As they got out of the auto, they were confronted by a male brandishing a knife and threatening them", Supt David Clayton said in a news conference.
"Incredible work by police in Melbourne but also bystanders - one using a trolley to try subdue the man", Cyndi Lavrencic said.
"Police shot the male in the chest and he is now in a critical condition under guard in hospital", Superintendent David Clayton told media.
In a statement police said a man was arrested at the scene and has been taken to hospital in critical condition. Police were investigating the incident in Melbourne as suspected terrorism, and they were re-evaluating security plans for upcoming public events.
Victoria Police said a bomb response unit had been called to the area and was now making the scene safe.
Mr Hair said two civilians became involved as well as two police, trying to stop the man from his attack.
The investigation is still in its early stages, but Ashton said police do not believe there is a "ongoing threat".
More than 100 police swarmed on the area.
More news: Virat Kohli makes controversial, immature comments
The unidentified man was shot by police after three people were stabbed, one fatally, on Friday afternoon.
He later died in hospital, Victoria Police Commissioner Graham Ashton told reporters.
Witness footage showed police struggling for at least a minute to corral the towering man - who was wearing a dark tunic - as he lunged, slashed and stabbed wildly at two officers, while a vehicle burned in the background.
"The exact circumstances are yet to be determined".
Witnesses reported the sound of a large explosion and a auto bursting into flames outside the Target store on Friday afternoon.
Two officers got out of the auto and attempted to engage him.
"We ask the public, unless you've got a objective to be here, please avoid the area, we'll provide regular updates through the media in relation to when the area is safe and clear", he said.
Premier of Victoria Daniel Andrews has described the attack as an "evil and awful thing", while also praising the courageous people who were involved in the frightening incident.
"And then I heard one loud bang". She then turned around to see a vehicle on fire.