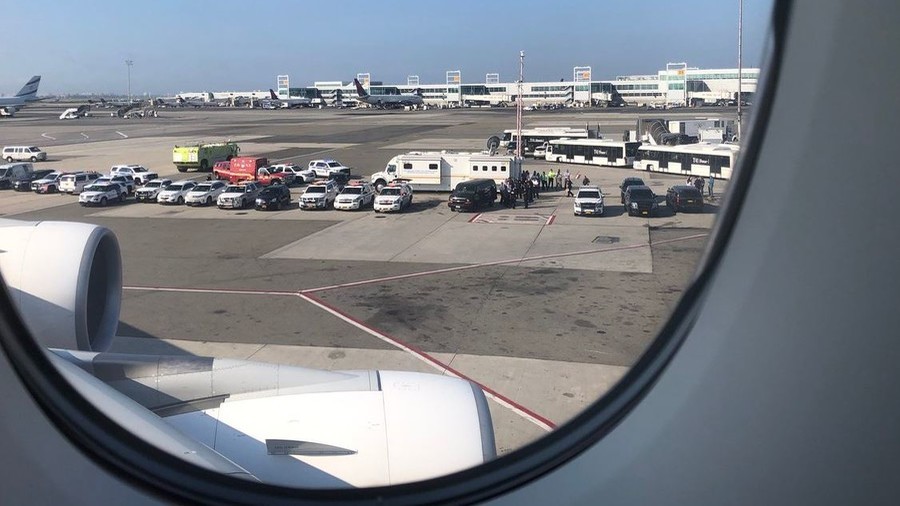 Ten people who were rushed to hospital Wednesday after a jetliner from Dubai was quarantined in NY appear to have the flu, according to preliminary tests.
Customs and Border Protection officials told NBC San Diego that the sick passengers all originated from Mecca, Saudi Arabia, where there was recently a flu outbreak.
A flight from Dubai has been quarantined upon landing at New York's John F. Kennedy airport after some 100 of the 521 passengers aboard the plane reported feeling sick.
Earlier, an Emirates spokeswoman had said that only 10 passengers on the flight were affected by the sickness.
The reason why these passengers and crew fell ill, whether food poisoning or flu, has not been released.
Emirates flight 203, a double-deck Airbus A388 carrying about 500 passengers, landed shortly after 9 a.m. EDT (1300 GMT), according to an airlines spokeswoman.
More news: Elon Musk smokes weed on Joe Rogan podcast
In a statement, Emirates confirmed "about 10 passengers" were taken ill, and as a precaution, were attended to by local health authorities.
The CDC, the Philadelphia Health Department and the Philadelphia Fire Department personnel performed medical evaluations and assessments, the airport said.
Rap performer Vanilla Ice, who was a passenger on the jet, tweeted, "This is insane. Apparently there is over 100 people sick on the bottom floor, so happy I'm up top, it's a double-decker plane 380".
Passengers who were not ill were allowed to continue with their travel plans, he said.
After disembarking, Coben said, passengers had their temperatures taken. While it's unclear at this point exactly what made almost 20% of the passengers feel so ill, NBC reports that the flight from Dubai made a stop in Mecca, where there is an ongoing flu outbreak.
Airline representatives did not immediate respond to an email requesting information.