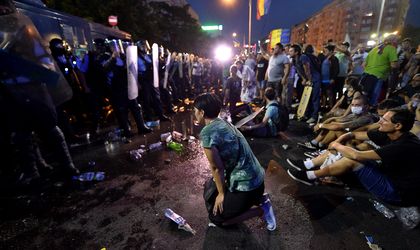 Local media said up to 80,000 people had taken to the streets, among them many Romanian expatriates who returned home to show their anger at the graft in one of the EU's most corruption-plagued member states.
Critics say Romania has lost ground in fighting corruption since the ruling Social Democratic Party assumed power in 2016.
Diaspora rally in Victoria Square in Bucharest on August 10, 2018.
Friday's protests were organised and promoted by groups of Romanians working overseas, angry at what they say is entrenched corruption, low wages and attempts by the PSD to weaken the judiciary in one of the European Union's most corrupt states.
Among the crowds in Bucharest were truck driver Daniel Ostafi, 42, who moved to Italy 15 years ago in search of a future he says Romania could not offer his family, and Mihai Podut, 27, a construction worker who left in 2014, first for France and later Germany.
"I left to give my children a better life, which was not possible here then", said Ostafi. The Bucharest-Ilfov Emergency Service said that of those 65 people, including nine riot police, were taken to the hospital. Dozens of others were treated at the scene.
The protesters were demanding the resignation of the government, objecting to the perceived efforts to weaken the judiciary by the governing Social Democrats (PSD).
Riot police spokesman Marius Militaru said police are pursuing charges against eight people for the violence.
More news: Discord turns retailer with beta launch of game storefront
In Bucharest, some protesters attempted to force their way through security lines guarding the government building. Hundreds of people — some carrying Romanian flags — started gathering around a central square in Bucharest for a second day of protest, with the crowd expected to grow as the evening progresses.
The demonstrations on Saturday proceeded peacefully, with approximately 25,000 people taking part in the capital Bucharest, according to the Agerpres news agency. Others threw bottles and rocks at riot police, who called the groups "provocateurs".
Late Friday, President Klaus Iohannis, a critic of the left-wing government, condemned "the brutal intervention of riot police".
There were accusations that soccer hooligans had infiltrated the largely peaceful protest and deliberately committed acts of violence.
Earlier Saturday, riot police said they were justified in their use of state violence as protesters had been warned several times to leave the square.
Three journalists also said they were roughed up by police.
Austria's public broadcaster ORF said Saturday a cameraman covering the protest for the post was hit by police with truncheons, while the presenter with him was shoved up against a wall. A journalist filming the rally for Romania's Hotnews online website said he was kicked and shoved by riot police.