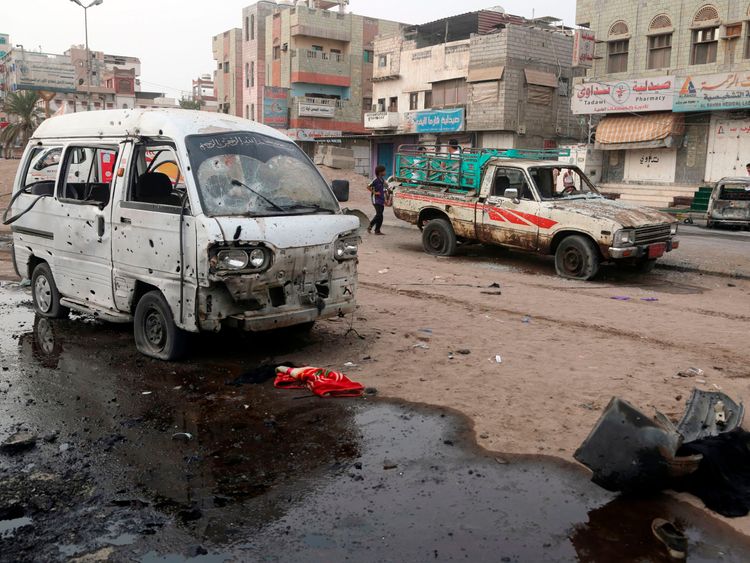 Dozens of children, most believed to be under the age of 10, have been killed after a Saudi-led coalition airstrike hit a school bus in northern Yemen Thursday.
Speaking by phone to the US-based news outlet, spokesman for the Saudi-led coalition supporting Yemen's government, Col Turki Al Maliki, insisted Thursday's attack carried out in Saada is a "legitimate military action" and is "in accordance with global humanitarian law and customs".
The Huthi rebels' Al-Masirah TV reported that 39 people had been killed and 51 wounded, "mostly children".
The ICRC said on its Twitter account that its medical team at the ICRC-supported hospital in Saada had received the bodies of 29 children, all under 15 years old. It also received 48 wounded people, including 30 children, it said.
Among the dead were children on a school bus that had been traveling through Dahyan Market, located in Yemen's Saada province, at the time of the attack.
He said the rebels have "ballistic missiles threatening our national security, Saudi cities and villages on the border". It was there, as the students sat waiting to resume their journey home on Thursday, that a Saudi-led coalition airstrike hit their school bus.
"No, this is not children in the bus", he said.
The alleged attack left one Yemeni resident dead and 11 civilians wounded, said Maliki.
The missile was sacked from Amran province in northern Yemen on Wednesday night, the coalition said in a statement published by the Saudi Press Agency.
Coalition spokesman Turki al-Malki even claimed that the strikes "conformed to global and humanitarian laws". He also accused the Houthis of recruiting children and using them in the battlefields to cover for their actions.
More news: Tribune calls off $3.9 billion deal with Sinclair
"We call on the parties to take appropriate measures to protect civilians", she said.
And Guterres called for a prompt independent investigation into the incident.
"But we have seen it drop since the USA pulled out".
The UK and U.S. has been criticised for providing logistical and military support to the Saudi-led coalition.
The Iran-backed Shiite militia has controlled Yemen's northwest, including Saada, since ousting the country's internationally recognized government from the capital, Sanaa, in 2014.
Later, air strikes were reported in the rebel-held Yemeni capital, Sanaa.
The head of the ICRC's delegation in the country later said most of the casualties were under the age of 10, adding that the organisation was sending additional supplies to hospitals in the area. It wasn't immediately clear how numerous casualties were on the bus and how many were pedestrians in the immediate area around it.
The United Nations has repeatedly criticized the actions of the coalition.
The missile was sacked from the rebel-held Yemeni province of Amran towards Jizan, the coalition said. There was no immediate comment from the Houthis in response to the coalition allegations.