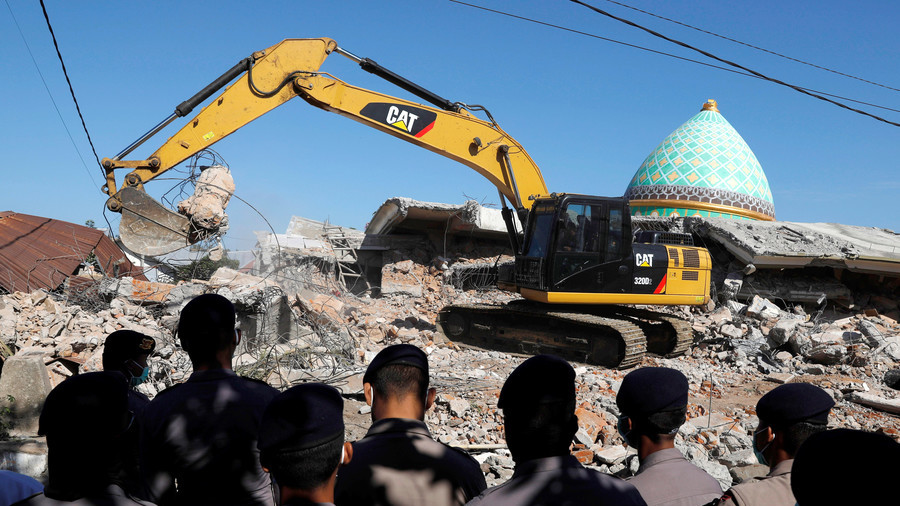 A strong aftershock has shaken the Indonesian island of Lombok, causing the collapse of several buildings.
Authorities made announcements over loudspeakers at evacuation sites, urging people to remain calm and stay inside tents or find open space if they were inside or near buildings.
Indonesia's geological agency said today's aftershock had a magnitude of 6.2 and was shallow, at a depth of 7.5 miles, centred in the north-west of the island.
The aftershock follows a series of quakes which have hit Indonesia over the past two weeks.
The latest quake, which is understood to have struck 20 minutes before the building fell to the ground, claimed at least six fresh casualties and sent the death toll to more than 320. People are still traumatised.
Evacuees in some encampments say they are running out of food, while others are suffering psychological trauma after the powerful quake.
The earlier earthquakes also left cracks in walls and roofs, making the weakened buildings susceptible to collapse.
A humanitarian crisis looms in Lombok, where thousands are in desperate need of clean water, food, medicine, and shelter.
More news: Liverpool's Loris Karius thanks fans for warm reception in friendly
Officials said about three-quarters of Lombok's rural north had been without electricity since Sunday, although power had since been restored in most areas.
Local authorities, global relief groups and the central government have begun organising aid, but shattered roads have slowed efforts to reach survivors in the mountainous north of Lombok, which bore the brunt of the quake.
Houses damaged by an natural disaster are seen in North Lombok, Indonesia, Monday, Aug. 6, 2018.
It comes just four days after a massive 6.9 magnitude quake shook the region on Sunday, killing 350 people.
Sumiati, 27, was giving birth as the quake hit, and had to flee with her one day old baby to an evacuation spot.
"People in the street began to panic and got out of their cars, they ran in different directions in the middle of the traffic".
Indonesia is prone to earthquakes as it is situated in the "Ring of Fire", an area in the basin of the Pacific Ocean where many tremors and volcanic eruptions occur. An estimated 230,000 people died after a magnitude 9.1 natural disaster triggered a tsunami off the coast of Sumatra in December 2004.