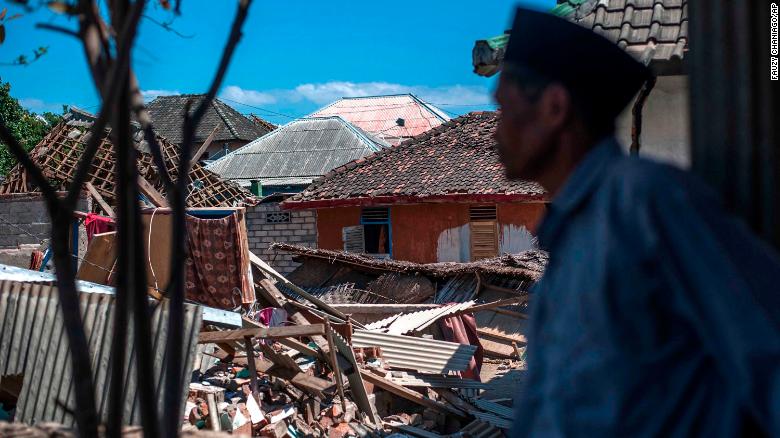 He has said several times that the number of deaths will increase.
An interagency meeting will be held Thursday to compare information, Nugroho said.
It's the third big quake to hit Lombok in little over a week.
Almost 2,500 people have been hospitalized with serious injuries and more than 156,000 people are displaced due to the extensive damage to homes.
The death toll from a devastating quake on the Indonesian island of Lombok has risen above 160, an official said on Thursday, as authorities urgently appealed for medicine, food and clean water for some 156,000 people displaced by the disaster. We are all frustrated to live like this - in a tent without certainty.
A total of 164 people were now confirmed dead in the quake, Nugroho told AFP, with a further 1,400 seriously injured and more than 150,000 displaced.
Rescuers have found three bodies and also managed to pull one man alive from the twisted wreckage of one mosque in Lading Lading village, while at least one body has been spotted under the rubble in Pemenang.
Most people live in basic housing in small communities.
More news: Osinbajo Fires DSS DG Lawal Daura
Authorities are still searching through the rubble left behind on Lombok Island, still hoping to find survivors.
There is a dire need for medical staff and "long-term aid", especially food and medicine in the worst-hit areas, government officials said.
A field hospital has also been established near an evacuation centre catering to more than 500 people in the village of Tanjung.
Shivaya Reo, mother of Natalie Jameson, says her daughter and fiancee had finally made it to safety in Bali.
The quake killed more than 100 people in Lombok and injured hundreds of others, leaving thousands of locals homeless and tourists stranded.
Hotels and other buildings in both locations are not allowed to exceed the height of coconut trees.
Indonesia is prone to earthquakes because it lies on the Ring of Fire - the line of frequent quakes and volcanic eruptions that circles virtually the entire Pacific rim. In December 2004, a massive magnitude 9.1 quake off Sumatra triggered a tsunami that killed 230,000 people in a dozen countries.